SPECTATORS
Tickets
Admission is free of charge.
Car park
Car Park – 20 PLN / per day
Disable persons
Facility adopted for people with disabilities.
Car park close to the arena
Reserved sector next to the main arena
Toilets adapted for visitors with disabilities.
Dogs
Dogs are welcome but must be kept on a leash at all times.
COMPETITION * SHOWS * LITTLE FAN ZONE
With all our fans and spectators in mind, both those more and less involved in equestrian sport, we have prepared several attractions. We invite you to cheer not only on the greatest stars of eventing, but also our local riders who are just starting their equestrian adventure, as well as para-dressage athletes. And those who have not yet tasted the charm of horse riding and equestrian sports, we invite you to the Little Fan Zone.
The youngest riders of Stragona Equestrian Centre will take part in two classes: the Equestrian Hope and Pony Race. In the para-dressage show, will see riders from the national team.
In the LITTLE FAN ZONE, you will have a chance not only to ride a pony – a live or wooden one, but also to take part in the qualifying rounds of the jumping competition on foot, the final of which will be played out on the main arena.
Saturday, 25.06.2022
Ca. 12.00 – the big water fence at the Morawa Hippodrome
The Equestrian Hope class – mini cross-country ridden by children on ponies. The riders will have to go over cross-country fences up to 50cm high, including the biggest water complex at the hippodrome.
Sunday 26.06.2022
Ca. 12.00 – the main arena at the Morawa Hippodrome
PARA-DRESSAGE SHOW
The show will be prepared and performed by members of the Polish National Team of the para-dressage discipline under the eye of trainer Jarosław Poręba.
Ca. 15.00 - the main arena at the Morawa Hippodrome
PONY RACE – children on ponies will have three laps to cover for a total distance of 1000 m.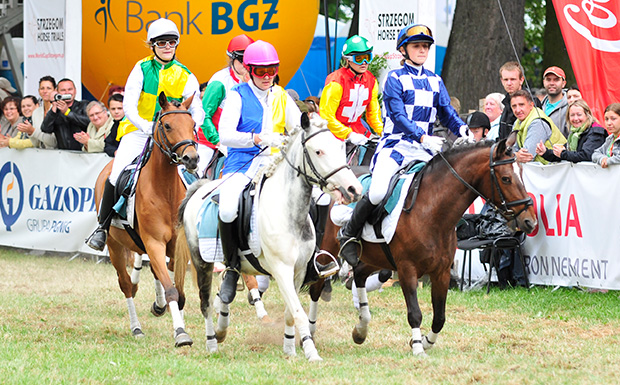 JUMPING COMPETITION – ON FOOT
All fans - smaller and larger - are invited to participate in the JUMPING COMPETITION. The eliminations will take place in the Little Fan Zone, and the finals will be held on Saturday and Sunday in the main competition arena.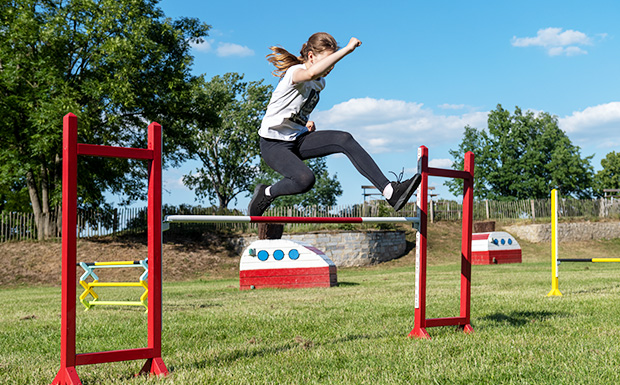 LITTLE FAN ZONE - THE PONY FARM
jako przedziałkę zdjęcie dziecka z kucykiem
Horse riding instructors at the Stragona Equestrian Centre invite you to the Pony Farm, where you will be able to:
ride a pony
learn a little about horses, their habits and how to behave around them
see how the horse's saddles and saddles are cleaned
find out what eventing is all about
take a photo of yourself on a wooden horse or on a picture wall.
In Kucykowa Zagród you will have the chance to:
meet outstanding riders
ask them a question about their work
take a picture with them